MNM HOSTS A DOUBLE BILL
THRIFTWORKS & BLOCKHEAD
w/ special guests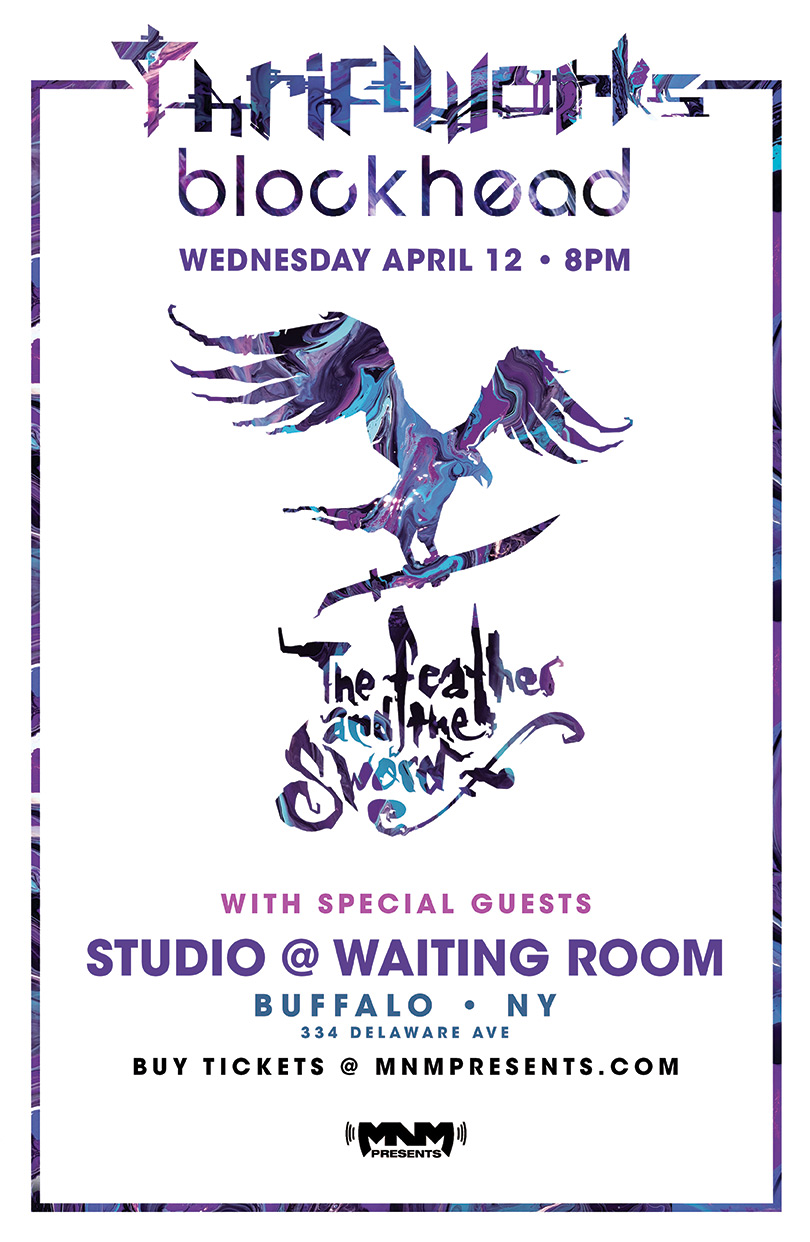 WEDNESDAY, APRIL 12th
Studio @ WAITING ROOM
Thriftworks
In support of "The Feather & The Sword"
› thriftworksmusic.com/
› facebook.com/Thriftworks/
› twitter.com/thriftworks
› instagram.com/thriftworks/
Berkeley, California based producer Thriftworks offers his own uniquely original take on forward thinking electronic music, weaving eclectic samples and explosive modern bass that continually pushes the envelope while taking the art of beat-crafting to new heights. Garnering much praise from fans and critics alike with his steady stream of new material, Thriftworks is quickly becoming known as one of the finest up and coming experimental producers with his outside the box sound and unclassifiable style.
Thriftworks' use of deep low-end and wall to wall synths seem to channel something ancient and mysterious, offering up an intoxicating musical high with an invigorating breath of fresh air. These sounds activate the senses, enrapture the mind, move the body and leave audiences begging for more.
Blockhead
› blockheadmusic.com/
› facebook.com/TheRealBlockhead/
› twitter.com/blockheadnyc
Tony Simon, a/k/a Blockhead, has been making and releasing utterly distinctive, funky and emotive music for the last two decades. As the son of an artist, surrounded by visual culture, he early on found that his passion was for music, for the sonic. A fan of a whole range of sounds, especially hip-hop, Blockhead steadily built a tremendous collection of tapes and later CDs from innumerable artists, a quiet accumulation of knowledge and know-how.
Blockhead produced nine tracks on Aesop Rock's critically acclaimed album "Labor Days." Additionally he produced half the tracks on Aesop's follow up EP, "Daylight." He has also worked with other indie giants Atmosphere, Murs, Mike Ladd and Illogic. In between, he found time to complete a break beat album entitled "Blockhead's Broke Beats," with ten hard-hitting instrumental tracks, which was released on Mush Records, the US home of cLOUDDEAD.
As 2017 gears up and Blockhead charges on, keep your eyes online as he updates his fans daily through all means of Social Media – whether on his blog www.phatfriend.com, or Facebook, Twitter & Instagram. This aspect of his career has become more and more important – and isn't something Blockhead takes lightly: "I don't have that thing in me where I feel I'm above just shooting the shit with people. With things like Twitter and Facebook, I'll respond to most questions. I'd like to think it makes the fans form more of a connection and recognize you as a normal person, as opposed to a foreign being who makes music they like."
Brought to you by MNM Presents